Our two-acre school garden is a very busy place over the summer! Scroll through to see happenings in the garden during summer 2022. – Celia Martin, Gardening Teacher
Anyone who has a yard or garden will tell you that there is a lot of work that goes into caring for it during the summer months. Our two-acre school garden is no exception. When the students leave for their summer break in June, they are leaving behind a freshly planted vegetable, flower, and herb garden that is just beginning to grow. Then, in September, they come back to productive and well-maintained beds that are ready to be harvested. But what happens in our school garden between those two times? During the warm days of summer, plants, including weeds, grow very quickly and it is the job of the garden crew to keep up with them. If it were not for a handful of paid students and a few dedicated volunteers, this would not be possible.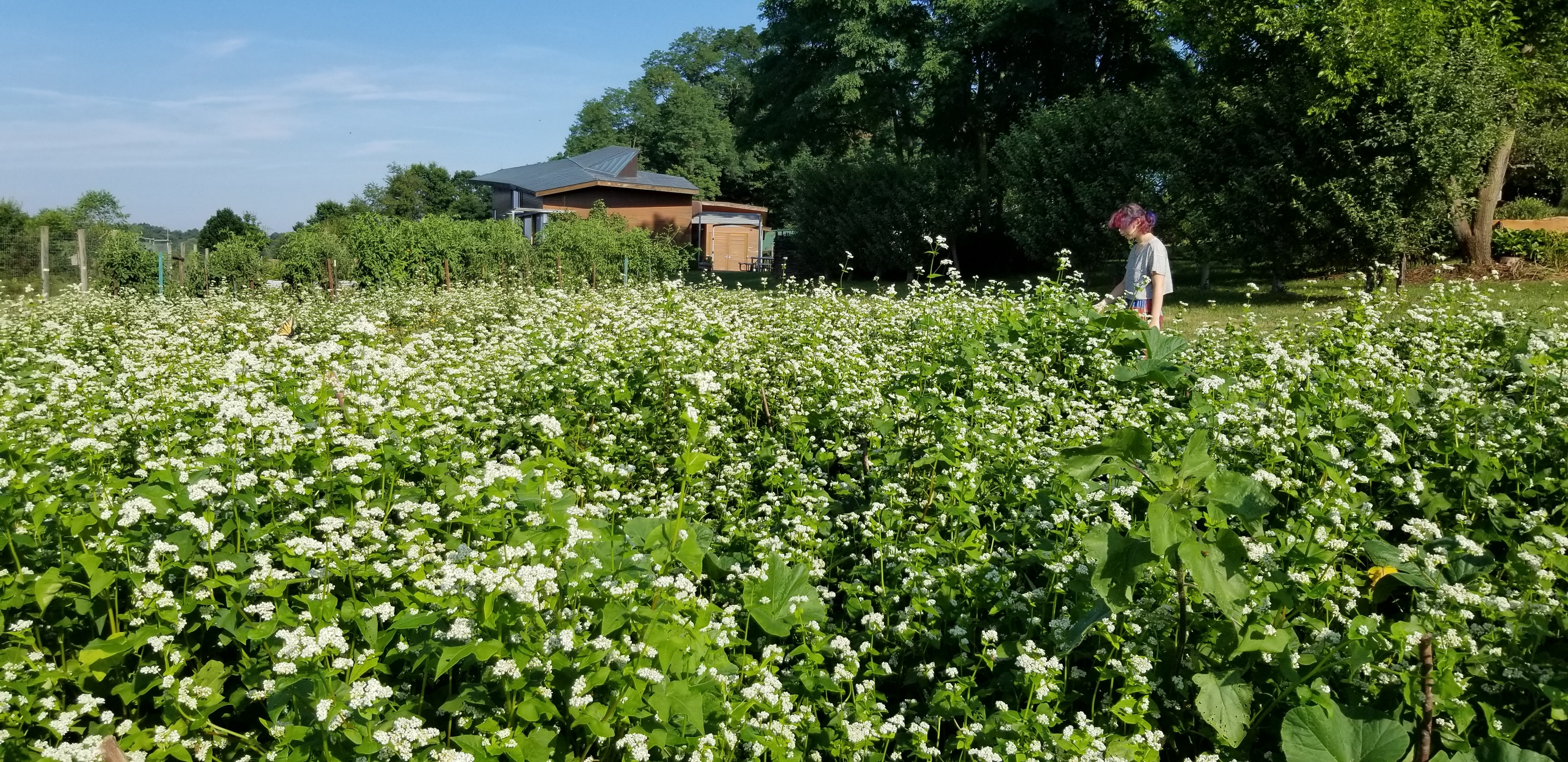 "Gardens are not made by singing 'Oh, how beautiful,' and sitting in the shade." – Rudyard Kipling
The summer starts with the harvesting of herbs such as oregano, mint, basil, chamomile, thyme, parsley, calendula, and lemon balm. We can get several cuttings of these herbs throughout the early summer and the harvested leaves cover all of the table tops in the garden building as they are drying. We dehydrate very large quantities of them for later use in teas, salves, and our very coveted Kimberton's Own Herb Salt.
The first vegetables to be harvested are the allium family – garlic and onions. Both are dried for a few weeks on the windowsill before being cleaned and trimmed. The onions go to Hilla Haut, the kitchen manager for our Food For Thought lunch program, along with some of the garlic. The remainder of the garlic will be used to make garlic powder with one of the fall classes while the very best ones are saved to replant in October.
String beans and summer squashes are the next vegetables to come into season and we harvest them three days a week. In late July the tomatoes also start to ripen along with cucumbers. Hilla picked up huge amounts of all of these vegetables each week throughout August and processed them for later use in our organic, homemade lunches. Potatoes, winter squashes and dent corn will all be harvested by the gardening classes after school starts, along with fall raspberries, sunchokes, and dried beans. Soon we will be planting the fall crops such as lettuce, broccoli, cabbage, and Brussels sprouts.
In between all the watering, weeding, harvesting, and mulching, we managed to put together our brand-new cider press! We used some early ground-fall apples to make a few gallons of fresh apple cider with delightful results. All the fall classes will have a chance to make some cider using our new press and our own apples. It looks like there is a very bountiful crop of apples this year. No doubt that our six hives of bees were very helpful in pollination during the spring.
After much lively discussion and debate with the students over the color, the garden building received a new coat of paint this summer and it now looks brand new. For those who are interested and were hoping for their favorite color – it was painted color choice #5, Cobble Brown, with the trim in Shade Tree Green. Please be sure to notice and admire it next time you are in the garden.
I personally want to thank Aaron, Anika, Jojo, and Sarah for all their hard work and dedication to the garden this summer. This was Aaron's fifth summer working in the garden and he has been especially indispensable in reminding me of what needed to be done and taking charge to do it. I will miss our conversations but am looking forward to hearing about where his life journey takes him. I appreciated all of Anika's attention to detail in doing all the little jobs without being asked, being able to find all the beans and cucumbers that everyone else missed, and her incredible ability to clean everything spotlessly afterward. I appreciated Jojo's fascination with every bug we came across and I'm looking forward to seeing his inspired insect collection. I appreciated Sarah's positive attitude and her special enthusiasm for our tomatoes which, I agree, have no equal. Kudos to Ram and Luca for being dedicated volunteers who kept showing up and whose contributions to the garden were hugely significant. I especially appreciated Ram's great enthusiasm for mulching. Honorable mention to Jacob and Tula, who showed up unexpectedly and helped to do whatever we were working on.
I also want to thank Hilla Haut who came one or two times a week to collect what we had harvested to preserve for the lunch program. Tomatoes were made into sauce, peppers were sliced and frozen, apples were made into applesauce or sliced and frozen for future dessert, cucumbers were made into pickles, basil was frozen for future pesto, and many, many, many string beans were processed and frozen for future soup days. Growing and then preserving food from our garden is not the easy way or even the least expensive way, but it is the best way. Growing and eating our own organically grown crops is one of the most environmentally responsible things we can do, and the quality and taste cannot be beaten. We are committed to our very unique, organically grown, garden-to-kitchen program!
Thanks to everyone who helped in our school garden this summer!